UNITIKA
Drop On Glass Beads
When it comes to road safety, every detail matters. Road markings play a crucial role in ensuring smooth traffic flow and protecting the lives of commuters. One integral component that contributes to the effectiveness of road markings is Drop On Glass Beads. These tiny but powerful beads are a key element of hot-melt and thermoplastic road marking paint. In this article, we will delve into what Drop On Glass Beads are, how they work, and why Unitika's UB-108L Glass Beads are the top choice for road marking projects in Japan and beyond.
What Are Drop On Glass Beads?
Drop On Glass Beads constitute an intrinsic part of thermoplastic road marking paint due to their retro-reflective attributes. During the application of thermoplastic paint on road surfaces, these glass beads are dispersed or sprayed onto the freshly laid paint. The distinctive retro-reflective characteristics of these beads come into play when vehicle headlights cast their beams upon the road. This effect causes the road marking paint to illuminate, intensifying in brightness as the light from vehicle headlights interacts with it. This illumination serves a crucial purpose, enhancing visibility during nighttime hours and in inclement weather conditions, ultimately elevating passenger safety.
How Do Drop On Glass Beads Function?
The magic of Drop On Glass Beads lies in their ability to retro-reflect light. When a vehicle's headlights strike the road markings embedded with these glass beads, the light rays are refracted by the beads and then reflected back towards the drivers. This phenomenon, termed retro-reflection, effectively illuminates the road markings, significantly improving their visibility during nighttime and adverse weather conditions.
Introducing the Manufacturer: Unitika Ltd.
Unitika Ltd., a prominent conglomerate headquartered in Osaka, Japan, is the driving force behind the production of UB-108L Drop On Glass Beads. While Unitika boasts a diverse product portfolio, including textiles, glass, plastics, and carbon fiber products, its Glass Bead division stands out for its unwavering commitment to quality and safety in road markings. With a rich history and a reputation for excellence, Unitika has earned the trust of customers worldwide.
Product: UB-108L – Premium Drop On Glass Beads
UB-108L, crafted by Unitika, represents a premium-grade variety of Drop On Glass Beads tailored explicitly for road marking applications. Approved for deployment in road marking projects across Japan and numerous other nations, UB-108L excels in several critical parameters
UB-108L boasts roundness levels exceeding 80%, ensuring the precise retroreflection of light rays from vehicle headlights. In contrast, irregular glass beads can disperse light rays, compromising visibility.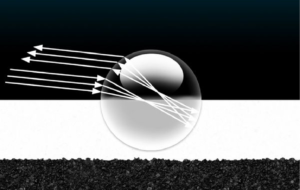 With a refractive index exceeding 1.5, UB-108L excels in reflecting light rays efficiently. This high refractive index is particularly well-suited for roadways and highways where visibility is of paramount importance.
Correct glass bead sizing is crucial for seamless paint integration. UB-108L ensures over 80% roundness, with 50%-60% of the diameter below the paint surface, preventing burying or improper adhesion.

Quality and Price:
Unitika Glass Beads stand on par with other premium brands, making them a dependable and cost-effective choice. By replacing subpar products, Unitika Glass Beads contribute to superior road markings and, consequently, safer road conditions. Furthermore, with prices ranging from Rs.70-75, Unitika Glass Beads offer a competitive edge when compared to other premium brands, which can command prices between Rs. 85-100. This affordability not only advances road safety but also reduces the overall costs associated with India's infrastructure development and imports.
In summary, Unitika's UB-108L Drop On Glass Beads are more than just tiny components; they act as safety signals, lighting up our streets and ensuring the protection of lives. With their exceptional quality, cost-effectiveness, and dedication to road safety, Unitika unquestionably plays a pivotal role in the quest to create safer, well-illuminated, and efficiently marked roadways. Choose Unitika's premium glass beads and be a part of the journey toward safer, brighter, and better-marked roads.